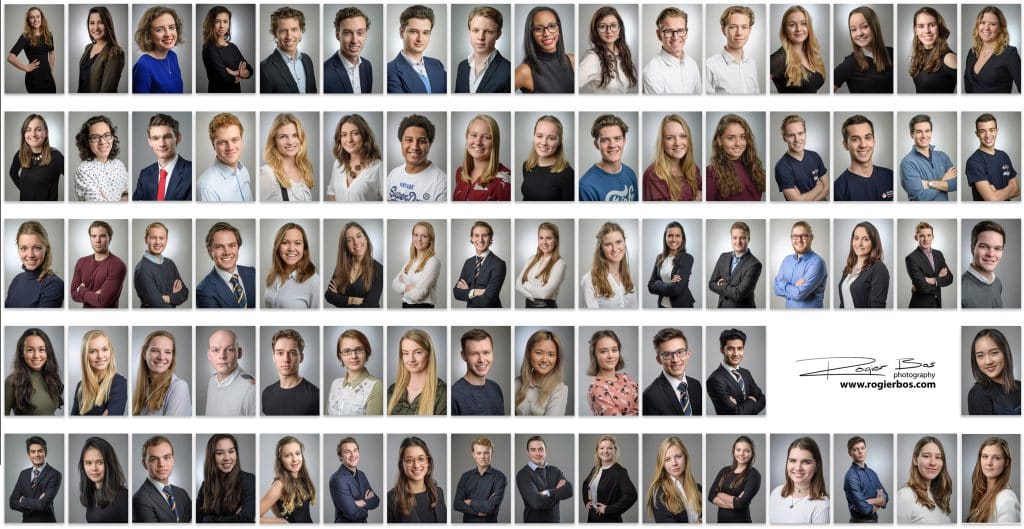 Op dit moment zit ik midden in een 'portretweek'. Ik noem dat maar even zo, omdat ik deze week niets anders doe dan portretfotografie. Dat komt toevallig zo uit. Normaal doe ik in een week allerlei verschillende opdrachten: industriële fotografie, eventfotografie, architectuurfotografie, productfotografie… maar deze week fotografeer ik alleen maar portretten.
Dat is geen straf! Ik vond portretfotografie heerlijk om te doen. Het contact met mensen, de afwisseling, en de verrassing op de gezichten als een portret beter is dan verwacht!
Hier zijn zomaar wat gedachtes die door mijn hoofd gaan deze week.
Portretten zijn er in alle soorten en maten
Meer lezen over 'alle medewerkers op de foto'? Klik hier…
Opdrachtgevers denken vaak dat ik in ene begrijp wat zij bedoelen als zij zeggen: ik wil dat je portretfoto's komt maken'. Maar de realiteit is dat er vele wegen zijn die naar Rome leiden. Het is een beetje alsof je een restaurant binnenloopt en tegen de ober zegt 'ik wil eten'. Wat voor eten, meneer? Nou, gewoon: eten!…
Hier zijn een paar vragen waar u van te voren over na kunt denken. Er zijn nog meer vragen, maar als u daar even mee begint, kan ik u beter op weg helpen.
Waar zijn de foto's voor?
Wilt u kop- en schouder; bovenlichaam, of full body?
Kleur of zwart-wit?
Moeten alle portretten precies in hetzelfde stramien passen, of moet elke foto uniek zijn?
Wat wilt u in de achtergrond zien? Zwart, wit, of een kleur? Of juist van de omgeving
Onzekerheid
Veel mensen zijn zo onzeker over hun portret. Opdrachtgevers willen graag dat de fotograaf zo snel mogelijk werkt: dan kost het niet zo veel tijd (en dus geld) — maar je moet mensen echt even op hun gemak stellen. Even een connectie maken; hen laten zien dat je op de details let ('hoe zit de kraag? Waar laat Ik mijn handen?'); en hen helpt poseren.
Keihard werken
Portretfotografie is ontzettend intensief! Gisteren heb ik 80 mensen op de foto gezet. Met 80 mensen even een connectie maken, even helpen poseren, even helpen om naar zichzelf te kijken… ik was gisteravond helemaal bek af. Ik zal het geen topsport noemen, want alles heet tegenwoordig topsport. Maar intensief is het wel!
Even voorbereiden
Opdrachtgevers sturen me te vaak met alle spullen naar een kamer die nog helemaal vol staat met spullen, die ik dan mag verschuiven. Daar bedank ik voor. Voor portretfotografie heb je best wel wat ruimte nodig, zeker als ik studioflitslampen en een achtergrond moet gebruiken. Ik ben nu begonnen de verantwoordelijkheid voor een lege kamer bij de opdrachtgever te leggen.
Voortdurende aanscherping
Goede portretfotografie echt een kwestie van een heleboel kleine trucjes en ingrepen. Er is oneindig vee te leren: over kleding, over make-up, over belichten, over compositie, over poseren, en vooral over hoe je iemand helpt prettig en natuurlijk over te komen! Een week lang alleen maar portretten schieten is dan ook helemaal niet saai, maar juist bijzonder uitdagend! Ik ben voortdurend bezig te leren en kleine aanpassingen te maken: aan de pose, aan het licht, de camera-instellingen, en vooral hoe ik iemand benader die voor de camera staat.
Enthousiaste reacties
En dat het lukt, blijkt wel uit de reacties die ik deze week al kreeg als ik mensen de foto's laat zien. Hier is een greep uit wat ik al hoorde in de afgelopen twee dagen.
"Oh wow, dat is veel beter dan ik had verwacht"

"Jij helpt me echt om me op mijn gemak te voelen!"

"Wat geef jij lekker duidelijke aanwijzingen!"

"Dat was veel leuker dan ik had gedacht!"

"Dat ging lekker snel!"

"Hehe, eindelijk een goede foto voor mijn LinkedIn!"

"Oh Miranda, wat een gave foto's van jou!"

"Goh, jij let echt op alles, he?"

"Prettig dat we deze keer een vakman hebben ingehuurd. Dat verschil merk je echt."