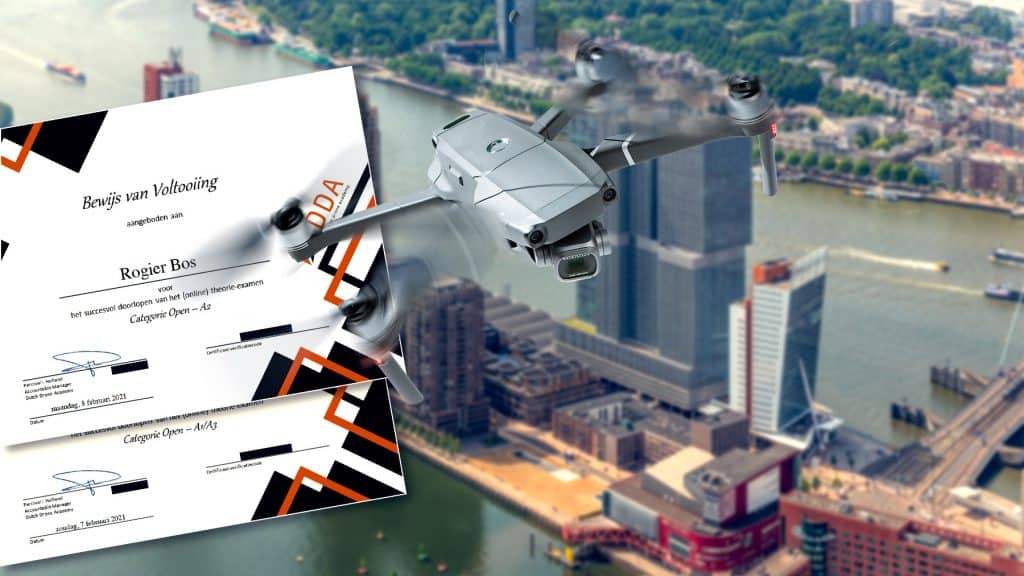 Yes — vandaag heb ik ook mijn tweede Drone vliegbewijs gehaald. Nu voldoe ik aan alle regels en mag ik legaal vliegen en fotograferen en filmen met mijn drone — in Nederland en in de hele Europese unie! Dus: zoekt u naar een foto/videograaf om uw industrie, architectuur of bouwproject op beeld vast te leggen, dan help ik u graag.
Wat u moet weten over drone fotografie
Leest u even verder. Het vliegen met drones is namelijk wel aan voorwaarden verbonden. Hier zijn wat dingen die u moet weten:
Om met een drone te mogen werken moet je voldoen aan een aantal voorwaarden:
1. Je moet minimaal je A1/A3 vliegbewijs hebben.
2. Je drone moet geregistreerd zijn bij de RDW
3. De fotograaf/videograaf moet als Operator bij het RDW geregistreerd staan
4. Je drone moet verzekerd zijn
Ik voldoe aan al deze eisen.
De meeste fotografen hebben een 'drone voor erbij' en voldoen niet aan deze regels. Dat is belangrijk om toch even te noemen: zij hebben daarmee onvoldoende kennis, lopen het gevaar op een stevige boete of inbeslagname van hun drone, en hebben geen verzekeringsdekking bij een ongeluk.
Hoewel ik nu dus in heel de Europese Unie mag vliegen, zijn er nog steeds grote gebieden waar gewoon niet met een drone gevlogen mag worden. Voor sommige gebieden kan ontheffing gevraagd worden; voor anderen niet. In gebieden waar het niet kan is luchtfotografie dan vaak weer wel een optie.
Als u wilt weten wat de mogelijkheden zijn op bepaalde plaatsen, dan informeer ik u er graag verder over.
Een groeiende collectie van mijn mooiste drone beelden ziet u op de pagina Drone fotografie en video