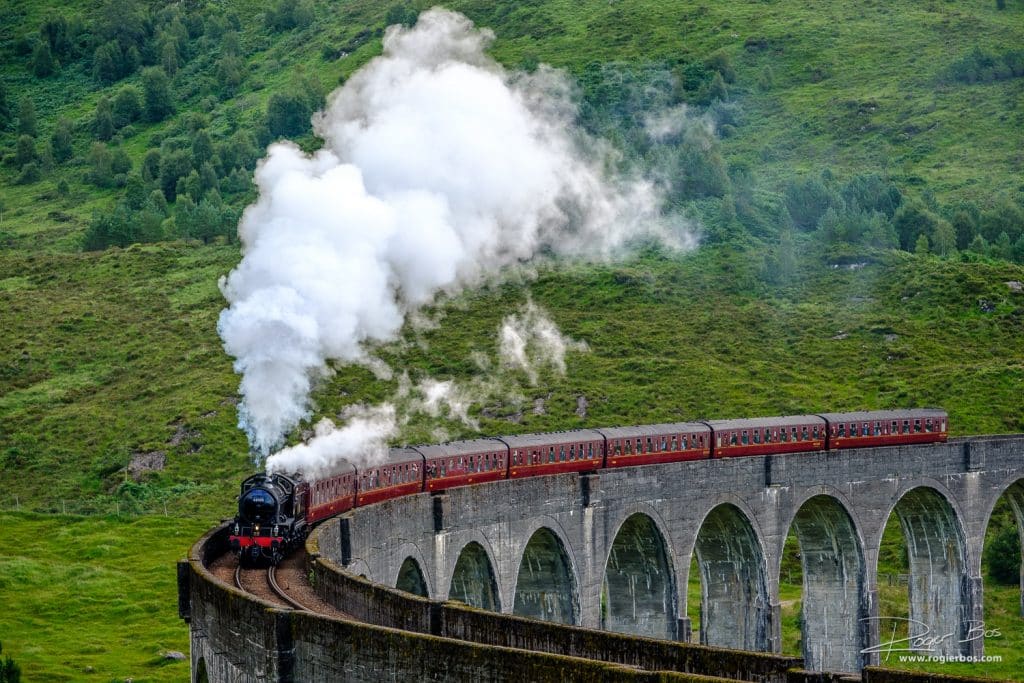 Our first stop in Scotland after leaving the Lake District (see my previous post) was Fort Williams. I wanted to show Sophie Scotland, because even though she is British, she had never been there. But for me it had also been almost 30 years, so where to go? Fort Williams itself is a bit of a dive (though I recommend the restaurant "Garrison West"!). It sits at the foot of Ben Nevis, the highest mountain in the UK, but the mountain was constantly covered in clouds, so going up did not appeal to us.
The other thing to do is to visit the viaduct at Glenfinnan, and that's what we decided to do. There is a Steam Train that crosses this viaduct four times a day. The viaduct and steam train were used in the Harry Potter movies. I was never really in to Harry Potter, but that scene is somewhat iconic. And growing up I was into steam trains… so that seemed to be the more interesting option.
No doubt the steam train would have disappeared if it wasn't for the Harry Potter movies. But as noticed a couple of times on this holiday: when a movie or series features a place, the tourists will flock to it. With regard to this train you have two options: you can be on it, or you can photograph it from the sidelines.
In most things in life it's more fun to be on the actual thing. But in this case I think spectating from the sidelines is actually the better choice. 🙂 Besides, the train is so popular, you have to book well in advance. Snd then you get to be on a train with a gazillion kids who are all wishing they were Harry Potter and who regard you as muggles. So we decided to drive to Glenfinnan and actually watch the train.
We, and about 300 other people. When the train finally passes the flanks of the hills on either side of the viaduct are covered with people. Parking is a real challenge, so whatever you do, come early.
The Glenfinnan viaduct can be found on the A830 which runs from Fort Williams to Mallaig. About 20 km's from Fort Williams you will pass through Glenfinnan. You can't miss it. Come early, and park in the official car parks. Parking elsewhere just means you need to walk for miles.
From the parking lot it's still a 20 minute hike to the viewing spots. There are signs to these spots, but of course I thought I knew better: I thought if I walked on I would get to a better spot, away from the people. Not true of course. Eventually I ended up right where the signs would have directed me in the first place. Just took the most difficult route to get there. 🙂
Click to see the pictures larger on your screen.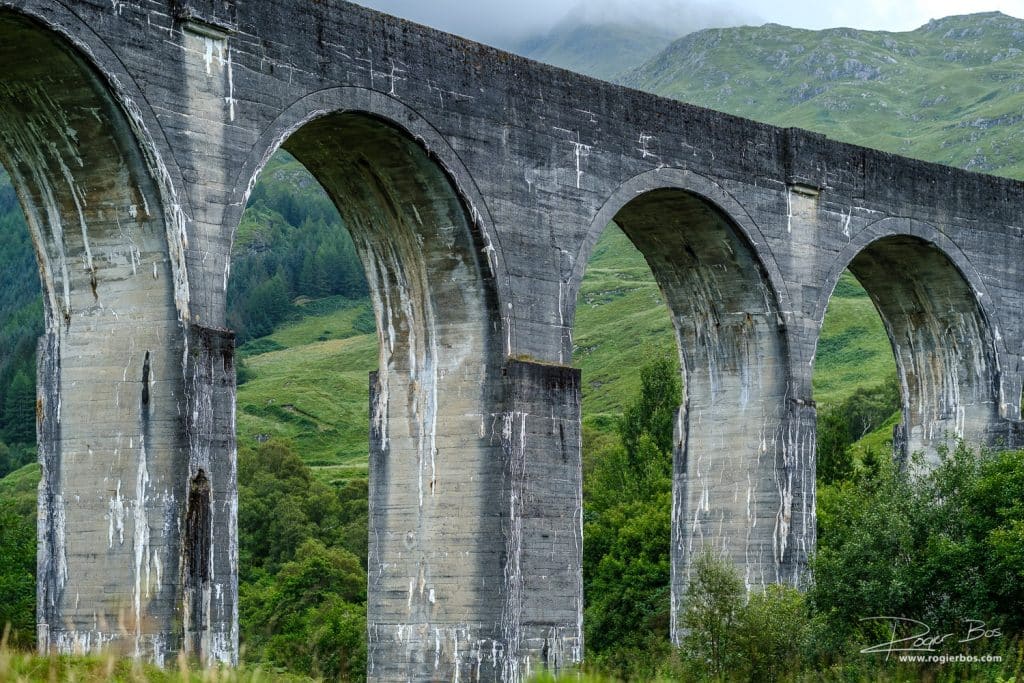 We came an hour early, and already there were quite a few people. The number grew steadily. Of course everyone has a camera. I was worried people would come into my shot, but that wasn't really a problem. I recommend you wear shoes that can get dirty, because chances are they will.
The surrounding landscape is lovely. You're in the highlands. Could these hills be any more green? Could it be anymore peaceful?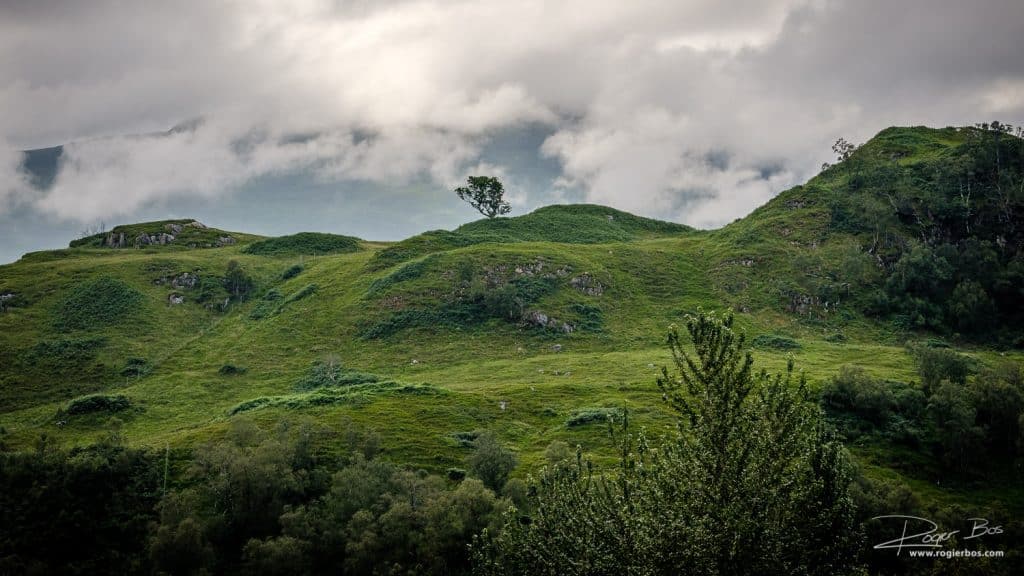 The viaduct is impressive by itself. It sits there as an artifact of an industrial age now past. Somehow the viaduct and the surrounding landscape complement each other perfectly.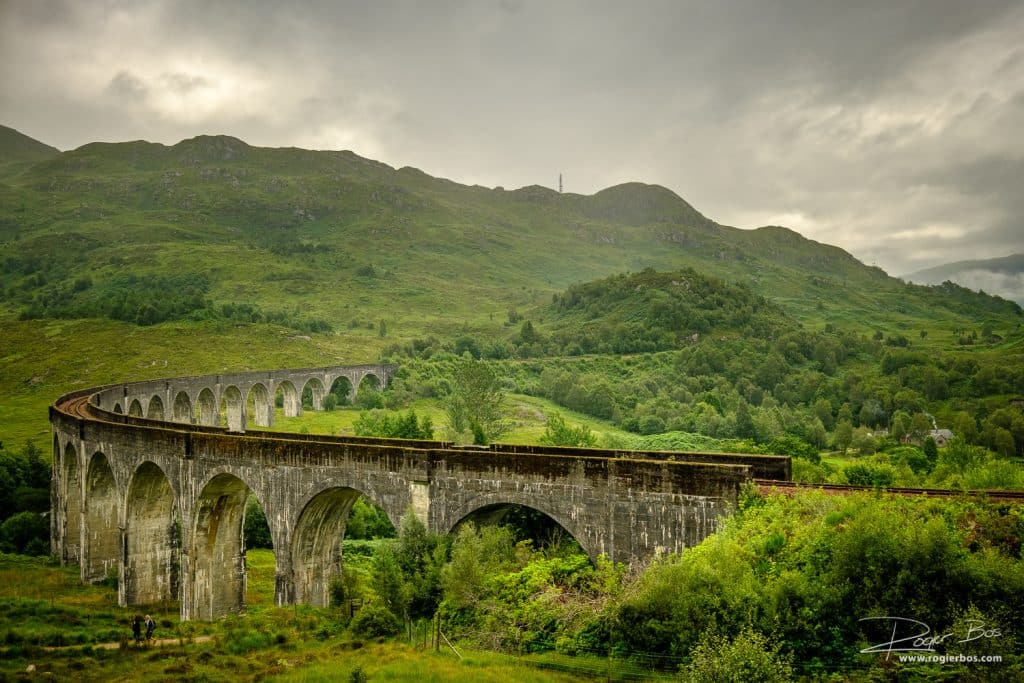 Everybody waits for the train, staring at the same point in the distance. There are a ton of kids, and for them this is all about Harry Potter. There was a cute English family with young kids next to us, and the three kids all held plastic magic wands. So cute. "When is the train coming, mommy?"
Well, you can't miss it. The train appears exactly where you expect it, and it moves nice and slow. The curve of the viaduct probably means it can't go very fast to begin with, but the driver knows there will be a ton of viewers, and so he goes extra slow. The train horn whistles in the middle of the viaduct. The whole experience is every bit as wonderful, and rustic, and nostalgic as you expect.
And it's over in two minutes. You click your camera like crazy. I had just enough time to change my lens, because the train comes by fairly closely. In situations like this I have to tell myself not just to take photo's, but also just to enjoy the experience, which is always challenging.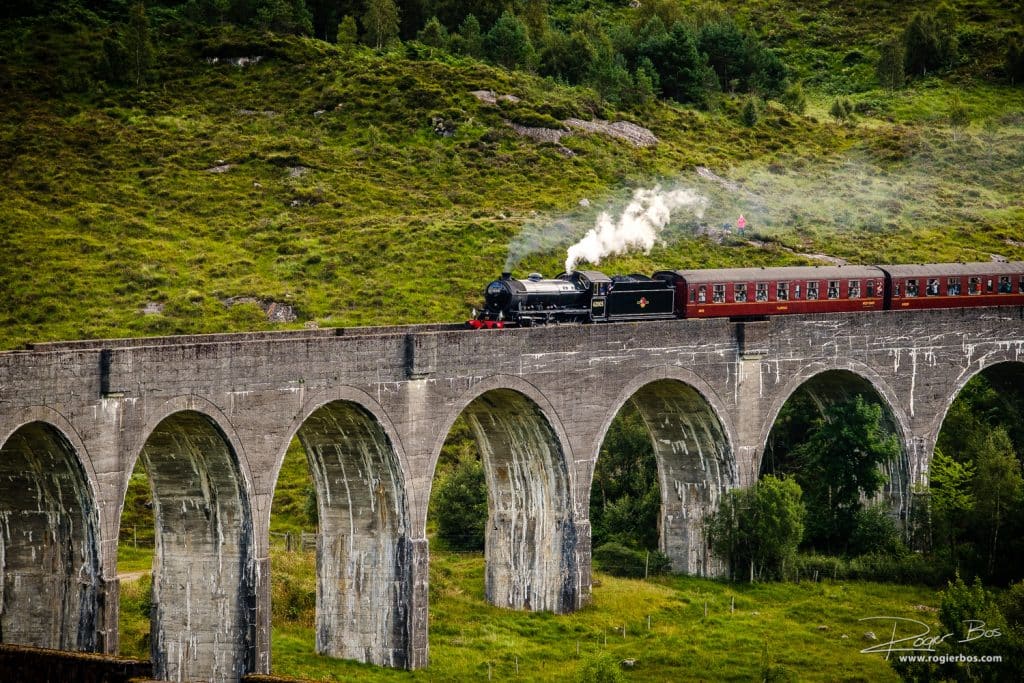 And just like that it's over… the train disappears out of site, and everybody climbs down and walks back to their car. Or camper, or coach. By the way, I recommend the flapjack from the gift shop. Best flapjack I ever had!
Most people pile in their cars and drive back to where they came from, which presumably is Fort Williams. But I strongly recommend you follow the road to Millaig. It has absolutely stunning scenery!
The road runs mostly parallel to the train track. So if you time it right, you can still see the train a couple more times. The train dead-ends in Millaig, and then returns to Fort Williams. I got the following shot of her at Morar. Another viaduct, this time with a waterfall in the foreground. Could it be any more Scottish :-)? Only this time the locomotive is turned around as the train is heading back to Fort Williams. You have to be ready for it though, because you only get one chance to get this shot!