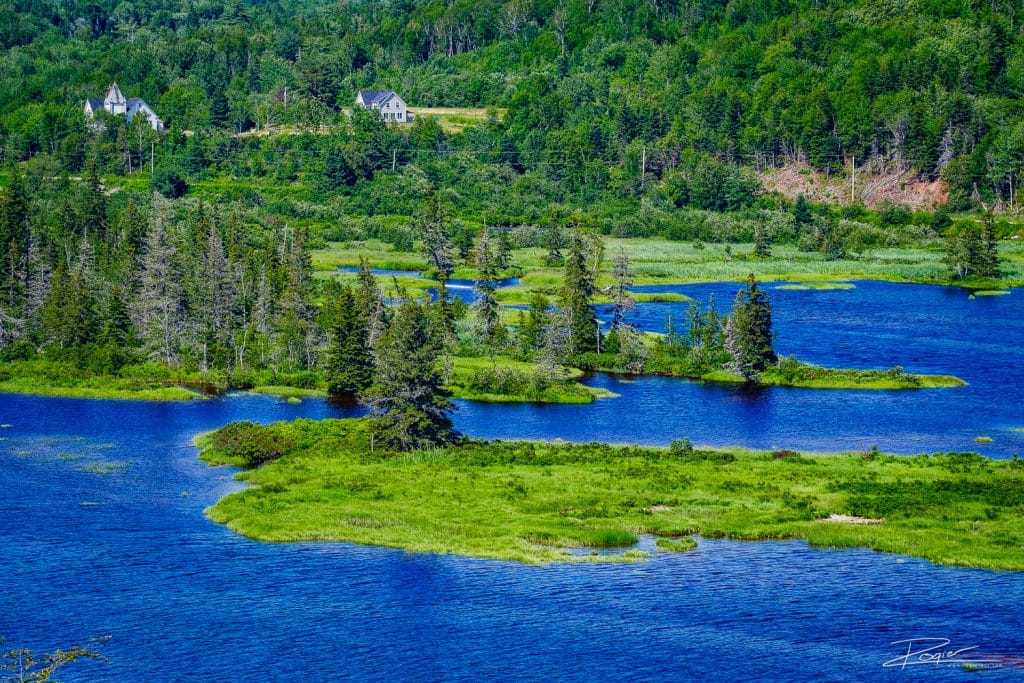 Every year I enjoy showing you my best photos from my vacation. I enjoy doing my own photography while on vacation (no client looking over my shoulder…). Just me, the camera, and an amazing landscape. This year we vacationed in Canada, and as you probably know, in Canada there's an amazing landscape around every corner!
Rest assured, these are not your holiday snaps. You will see no pictures of kids eating ice cream, or pictures of me lying on the beach. What relaxes me is seeing amazing landscapes. Capturing those landscapes is a way of bringing my vacation home with me. At various points throughout the year I look back over those photos and it reminds me of a good and beautiful time!
Route
We started our trip in Halifax, Nova Scotia. That's really the only city we visited. Sophie has family who live there. From there we drove to Fundy Bay, which has the largest tide-difference in the world: 11 meters difference between high and low tide. We visited Annapolis Royal and saw the first European settlement in Canada, visited Kejimkujik National Park, and then visited Mahone Bay and Lunenburg with it's colorful houses.
After a brief stay with Sophie's family again we drove up the Nova Scotia Coast (the most beautiful drive!) to Sydney where we caught the 7hour ferry to Newfoundland. We landed at Port-aux-Basques and then drove to Rocky Harbour in Gros Morne National Park. From there we did a one-day trip to Saint Lunaire-Griquet where we took a boat ride to see whales and icebergs. I had high expectations of seeing the whales, which turned out to be disappointing; I had low expectations of seeing icebergs, but it turned out to be amazing! Funny how that goes…
From there we travelled to Bovavista and English Harbour, where we saw more whales and also visited a Puffin colony. We spent 6 days in Newfoundland, and I thought it was absolutely fantastic.
We then took the ferry back to Sydney, where we stayed with Sophie's family in Cape Breton for four days. Cape Breton is the northern most top part of Nova Scotia. From there we went back to Halifax. All in all we drove 5400 km.
A couple of observations
Eastern Canada is absolutely beautiful. We visited Western Canada (Vancouver to the Rockies and then back to Vancouver island) 2 years ago (photo's), and that was fantastic. I had fairly low expectations of Nova Scotia — you don't hear much about that part of Canada. But I can tell you the coastline was amazing. The drive from Halifax to Sydney is as beautiful as the Pacific Coastal Highway in California. There are endless beautiful beaches, totally empty. Of course the water is chilly, so there's no one in the water.
The roads are long and empty. Two lanes, and often you will not see another car for miles. Sophie's behind started disliking the many potholes after a while; many of the roads are in urgent need of repair. We even drove over a few roads that had a sign: 'the department of fishery no longer supports this road'.
You can drive for miles and miles before you see a gas station. You better make sure you have at least half a tank of gas when you pass one, because the next gas station could be a while!
And the next restaurant or supermarket might take even longer. Sophie and I are not sure what Canadians eat, but more than a few times we were just amazed to discover we had driven for miles and miles before we found a store, only to see endless rows of snacks and junk food.
There are more churches than gas stations and restaurants — that's for sure! Every few miles you will pass a cute little white church. Most of them look like they haven't been used in years. I photographed a few, but after a while you just give up.
I may have seen a lot of churches, but I never saw any moose. Canadians will be quick to tell you that is a good thing: moose are back animals and an accident with a moose can be deadly (not for the moose, but for the human). There are warning signs for moose everywhere. I wanted to see one, but never did.
Canadians are incredibly friendly and helpful and talkative. They will engage you in conversation quickly and easily. You will find out lots of private details that a European might not even share after you had been friends for a decade. I met a gentleman on the boat from Sydney to Port-aux-Basques. Within 5 minutes I had heard his whole life story, including the fact that he had just sold his business in Thailand for 10 million dollars and was now returning home to build his own property in Deer Lake, just 'up on the hill behind the power-station'.
And then there is the emptiness and the quietness. There is a picture in this set of nothing but pebbles and quiet waves on a misty beach (English Harbour-307). It was there that I realized I found the rest I so craved on this holiday.
Thanks for reading and looking. Enjoy the pictures. Leave a comment? Click on the photos to see them larger.