You could blame the sales-clerk at B&H I suppose, because he's the one who made me a Nikon-user. I was ordering my first camera, back in the analog days, and was trying to get the most bang for my limited bucks. He recommended a Nikon deal (one body and three lenses, I believe) and so I became a Nikon user. With pleasure, I should add. I like the feel of the camera's, the lenses, the images they produce of course. I even (really) like the 'I AM' campaign. But I also realize that if the guy at B&H had recommended Canon, I'd be a Canon-guy right now. It's not like I knew what I was doing.
But these days I do know what I'm doing, and so I made a serious investment in lenses of another brand: Fujifilm. I have a couple of trips abroad coming up, and I have started to realize there are 'lighter' options than my Nikon gear.
Also, I really like what Fujifilm is doing. I bought the C-E2 camera a while back, and it is pretty amazing! I love the retro-look, the ease of the controls (right there at your fingertips), and I also really like the Electronic Viewfinder. I also like the tone of the images I see Fujifilm photographers produce: the dynamic range, the subtlety of the gradations, the black and whites; pretty film-like, if you ask me. And then I got to hold the new Fujifilm-camera, the X-T2, yesterday for an expanded amount of time. Wow! Yes, that baby is coming my way…
This week I bought three lenses: the 10-24/F4, the 50-140/F2.8, and the 100-400/F4-5.6. I already have the 18-55/F2.8-4, though I will replace that with 16-55/F2.8) later this year. The X-T2 will come out in september, and I'm sure it will its way into my back shortly thereafter.
Some results from my new Fujifilm lenses
Today I was playing around with these new lenses. First, I shot some images just on the balcony outside my office.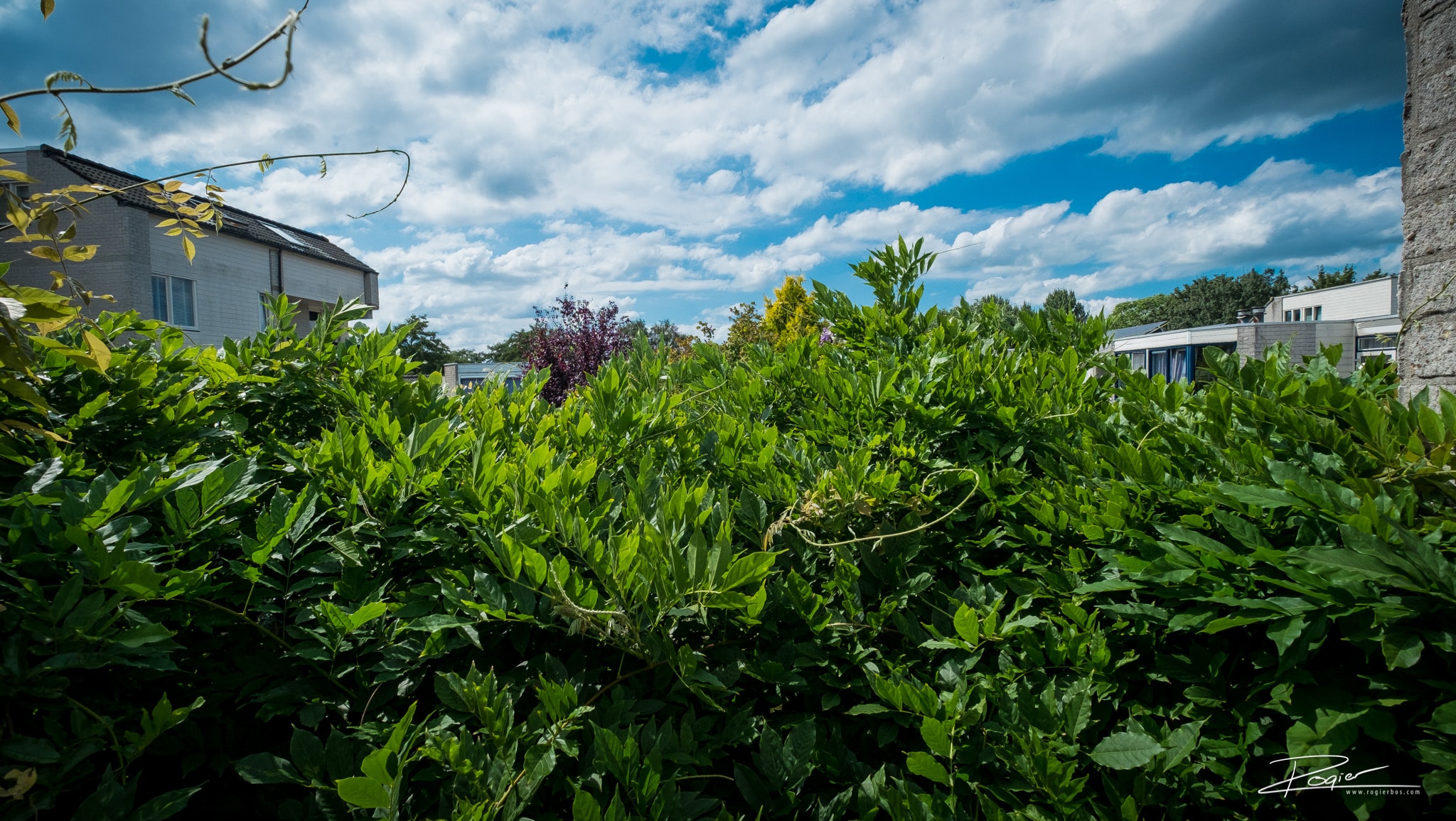 This is the view from the balcony. Next, the 50-140mm lens. That's 76-213mm in Nikon/Canon speak. See what I am about lovely subtle gradations?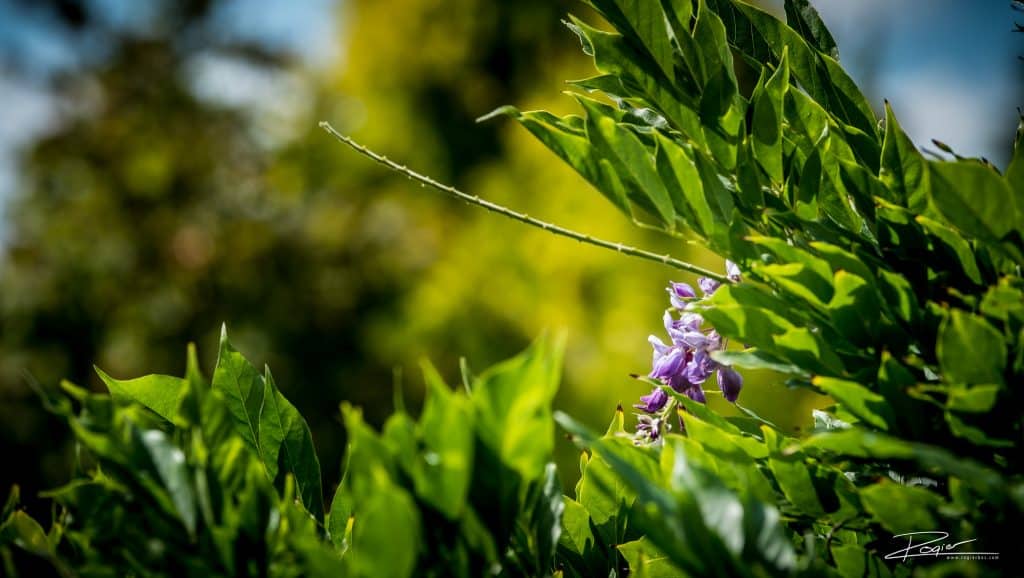 Time for the big gun. Here's the 100-400 (152-609 in 35mm).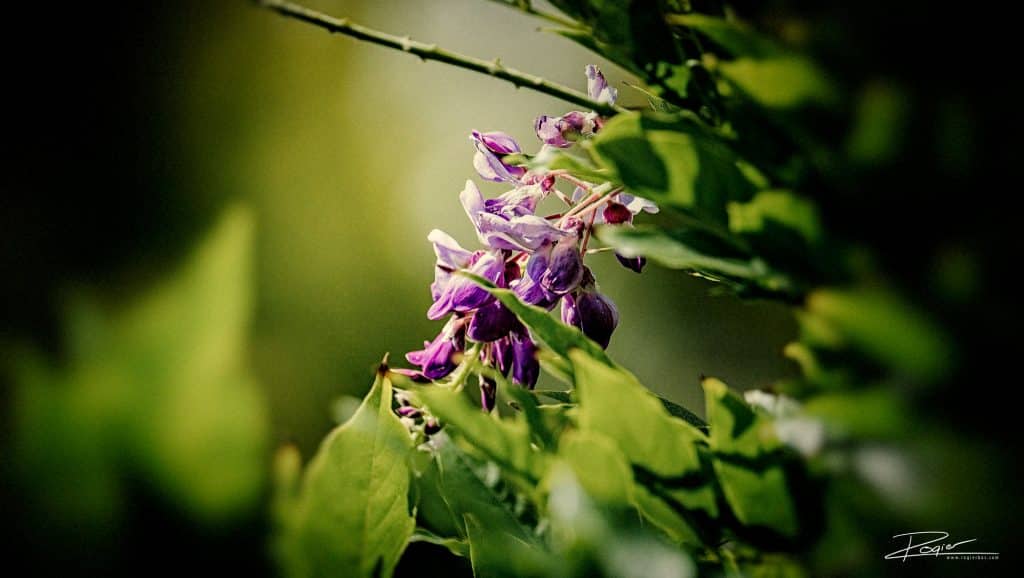 I case you're wondering why that image looks so different: I processed it in Exposure X by Alienskin, one of my favourite plugins. One more image to show…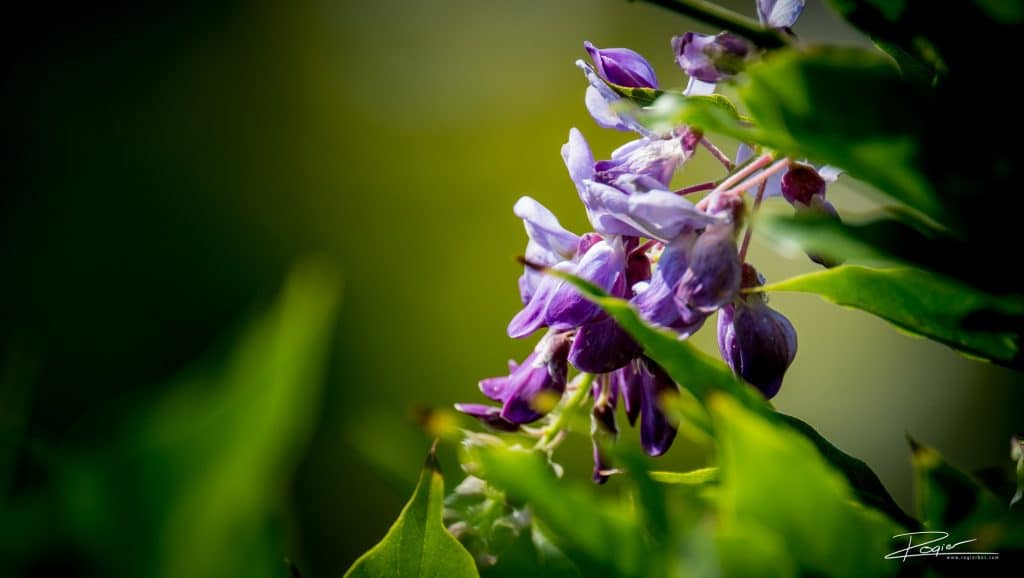 Now, bear in my that in all these images I stood in exactly the same place. I did not move closer and closer to the purple flower. I am approximately 2,5 meters away from the flower.
Compairing size
Then I became curious about the difference in weight and size. So I got my regular Nikon bag, and my new Fujilfim camera and moved to the table in the livingroom. I got my wife's scales out, and weighed the different combinations.
First, here's the equipment I am comparing. The very minimum I always take to a shoot is this: Nikon D4, 14-24mm, 24-70mm and 70-200mm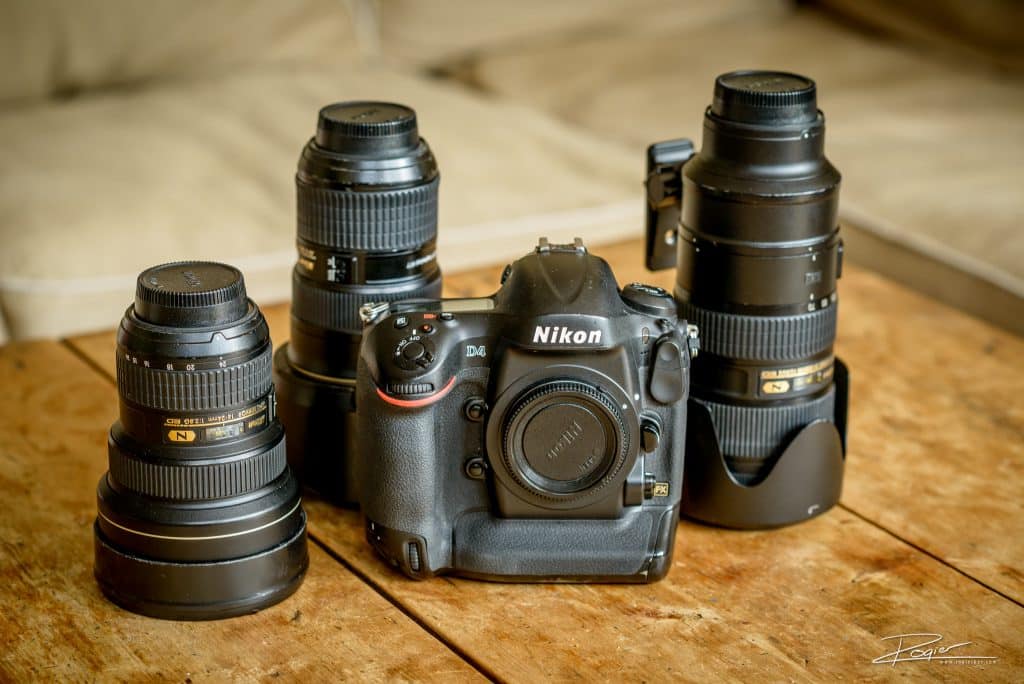 Actually, that's when I can only take a very small bag, like onto a building site. In 98% of projects, I bring the following ( I wont bore you with what's what):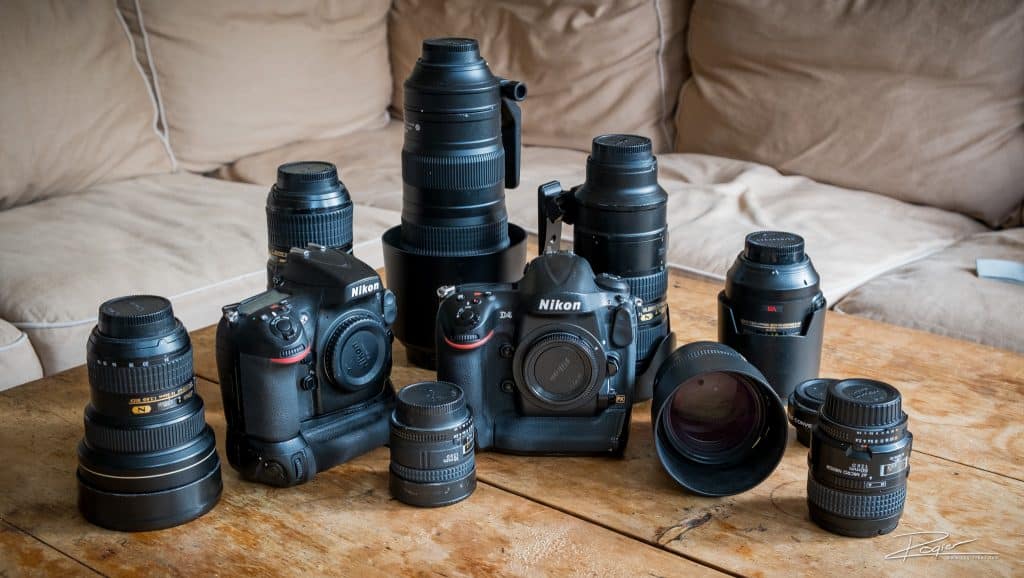 Now, let's compare my minimum equipment to the equivalent in Fujifilm: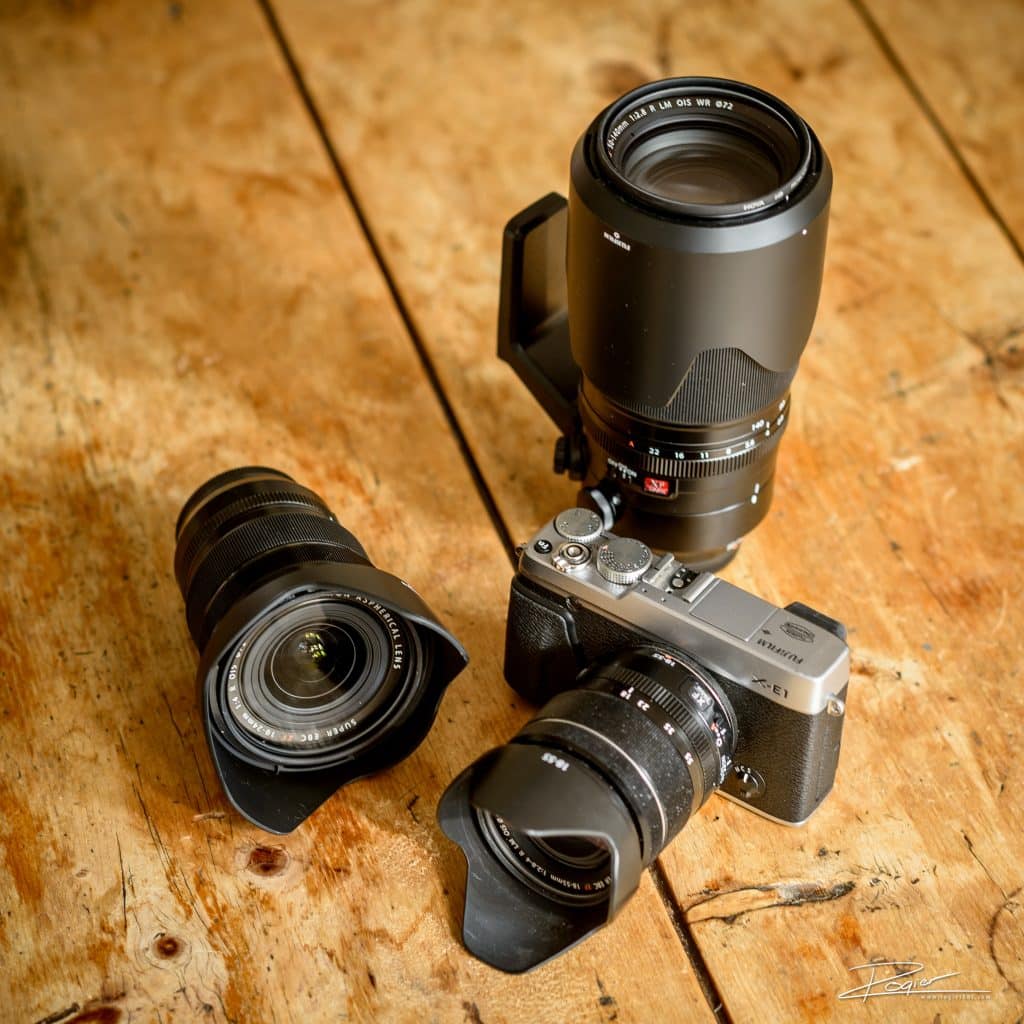 Big difference!
Next: weighing the equipment
The results:
| | | |
| --- | --- | --- |
| | Nikon D4 | Fujifilm X-E2 |
| 14-24 | 2366 gr | 689 gr |
| 24-70 | 2310 gr | 689 gr |
| 70-200 | 2355 gr | 1528 gr |
| 200-500 | 3827 gr | 1918 gr |
Again: pretty big difference!
Conclusions and questions
Of course I realize this is not a scientific comparison or a very detailed analysis of either brand. Yes, I know there are huge differences between a Nikon D4 and a Fujilfilm X-E2. Both have a 16 megapixel sensor, but for the rest they are wildly different machines. This is just a blog by some guy familiarizing himself with his equipment. Take it for what it's worth; if it's interesting, great, if you disagree, that's fine also.
There is a huge difference in size and quite a difference in weight. We all knew this already; I just wanted to see what it actually was.
The images produced by the X-E2 with these lenses are just lovely. From what I can see of the X-T2, the images out of the camera are also very, very good.
I also have a few questions:
Could I switch? Seeing as I do a lot of event photography, I tested the X-T2 at high ISO's, and the noise I saw was small and very grainlike. Holding the X-T2 yesterday for the first time I found myself wondering if could see myself switching to Fujifilm altogether.
Is having two camera-systems just going to confuse me? I can see myself looking for controls or functions on one camera, that can only be found on the other one…
What is Nikon going to do next? I am sure the D5 with it's insanely high ISO wil find its way into my camerabag at one point also, but I am really wondering what they are going to do to follow up the D810. Lots of photographers feel they don't need the extra megapixels, but my work frequently gets printed quite large, so I like all the megapixels I can get…
No, I am not switching yet. I am really very invested in Nikon — and still like the brand. But Fujilfilm is definitely doing something right. They are rumoured to come out with a Medium Format camera at Photokina in September. I will be there: front row, middle seat. This is getting very interesting…