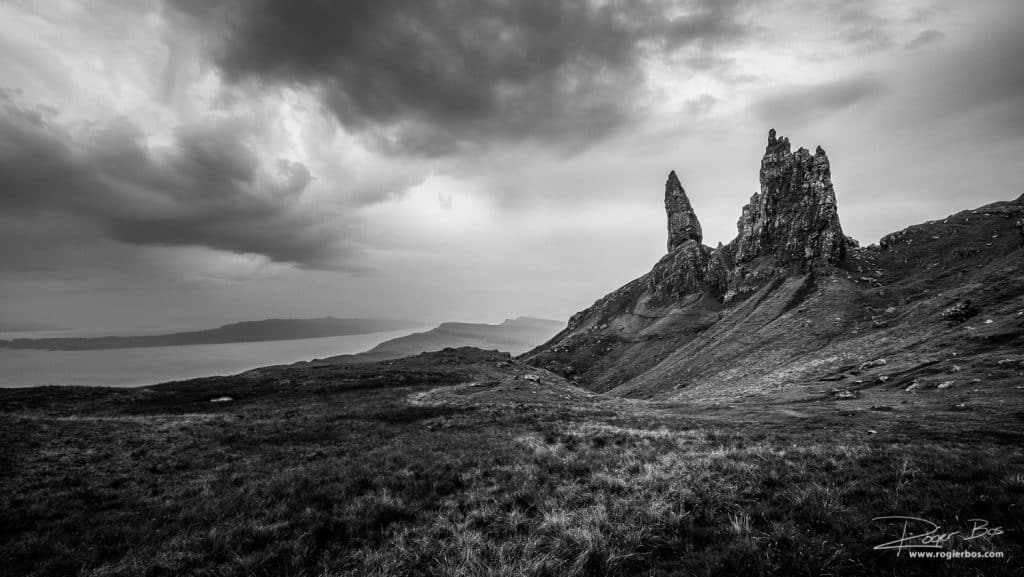 One of the Isle of Skye's most well know — and most photographed — landmarks, is the Old Man of Storr. It is a collection of rock pinnacles that sit on a mountain side in a wide-open landscape. It's a stunning location to visit and photograph, even if the weather doesn't really cooperate.
My previous post contained a number of beautiful Isle of Skye landscapes. I kept my images from Old man of Storr out, because thas place merits a post of its own. Out walk up the Old Man was my favourite during our holidays.
You can click on any of the images to see them larger.
The hike starts right by the road. from Portree it takes half an hour to get there — if you can force yourself to just keep driving and not take in the landscape every three minutes or so. 
There is a car park there, but I suggest you come early. Because once the car park fills up (and it will). there is really no place to park for a long while. 
The hike starts nice and slow. The path climbs gently and evenly, till about a third of the way. Your total climb today will be around 500 meters, if you want to be level with Old Man, or higher if you want to look at him (her?) from slightly above. A pair of solid hiking shoes are essential; the path is rocky and muddy, Admire the flowers as you go along!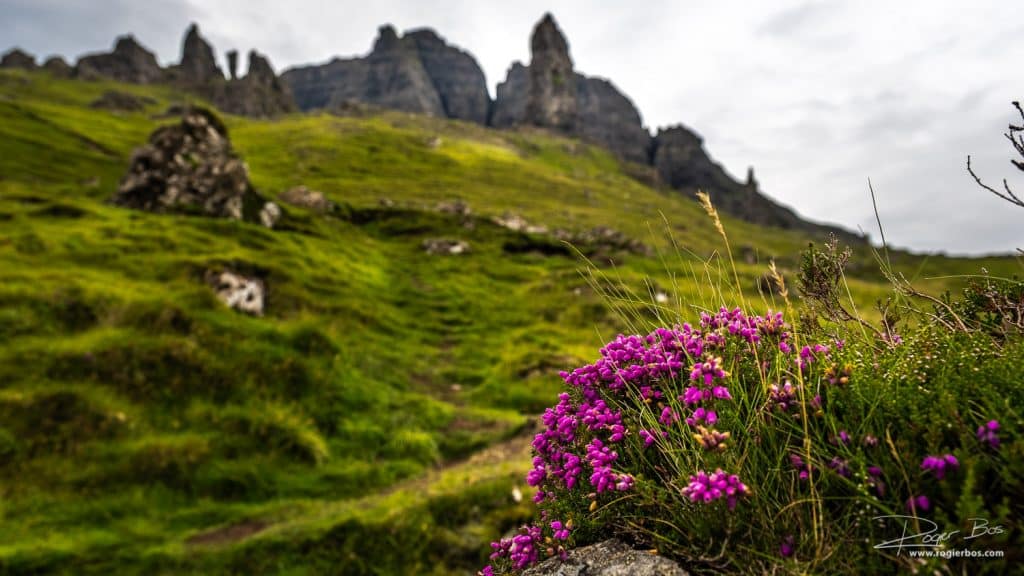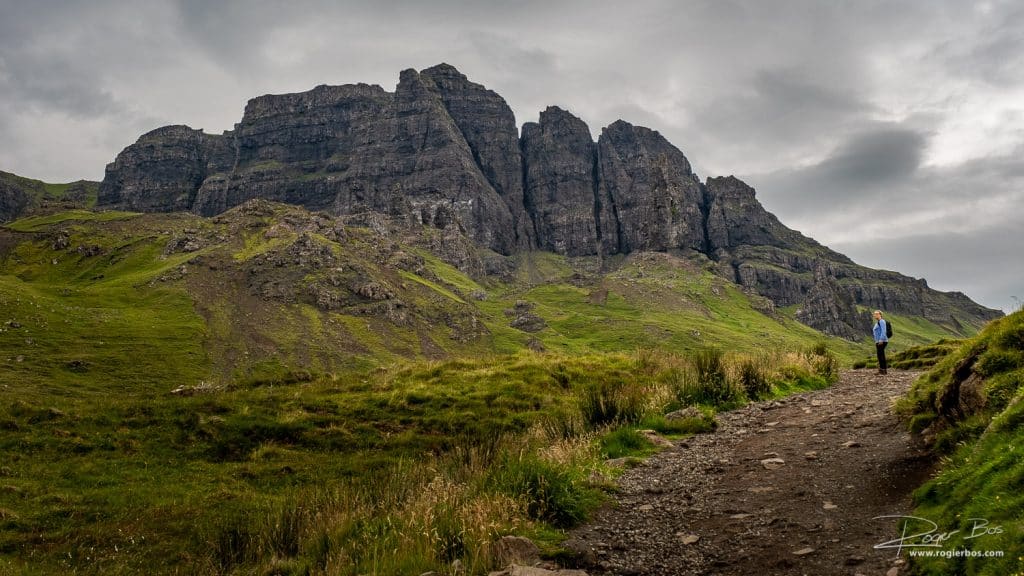 Sophie and I sought to be beat the crowds and so we made sure we were there by 7:30. There were a few people, but on the whole it was pretty quiet. We walked alone most of the time. I carry a camera bag with a couple of lenses, so we're not the fastest. I was interested to see that a number of other people with tripods and camera's also came early and sped up the mountain: they were all oriental in appearance, young, and obviously much fitter than us. They overtook us, and a little while later we were 'entertained' by the sight and sound of a drone. I wonder in what video we will be appearing….
By the time we reached the rock pinnacles there was a cold wind and it had started raining. We brought rain jackets, but even with those it was pretty cold. Up there the wind has free reign. 500 meters can make quite a difference..
But it is, in a word, beautiful. I am not sure I can explain it. There is a quiet peacefulness to the landscape. A depth that comes from having been here long before we got here, and from being here long after we will be gone. And it's all around, and goes on for miles and miles and miles. There is no way to do it justice with a photo.
Which is not to say I won't try, of course! 🙂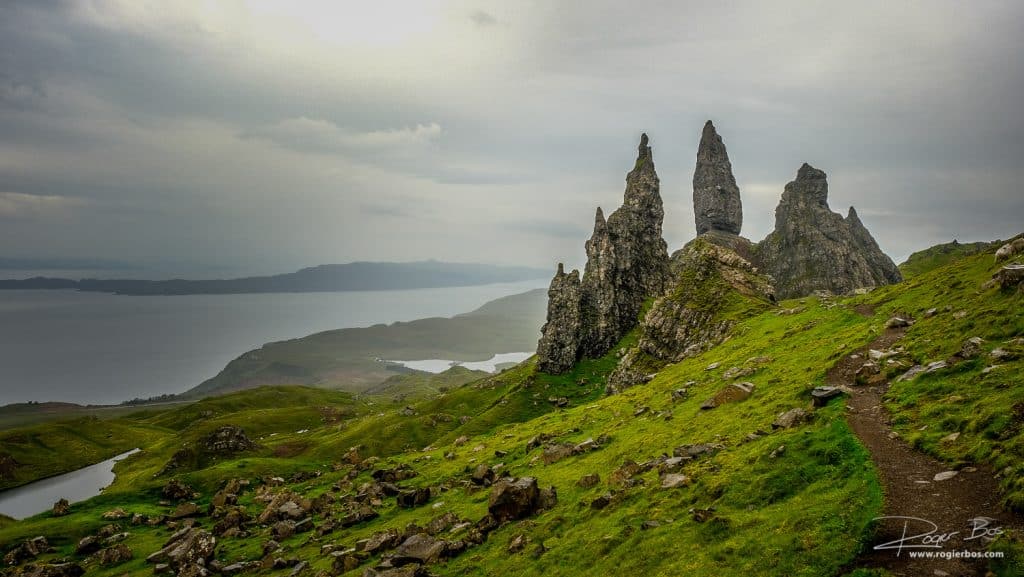 The walk down was just as long and beautiful and difficult as the way up. By now the rocks had become very slippery, and so we walked slowly and carefully. 
We came across a sign which I experienced as terribly confusing… was I supposed to go on, or not? 🙂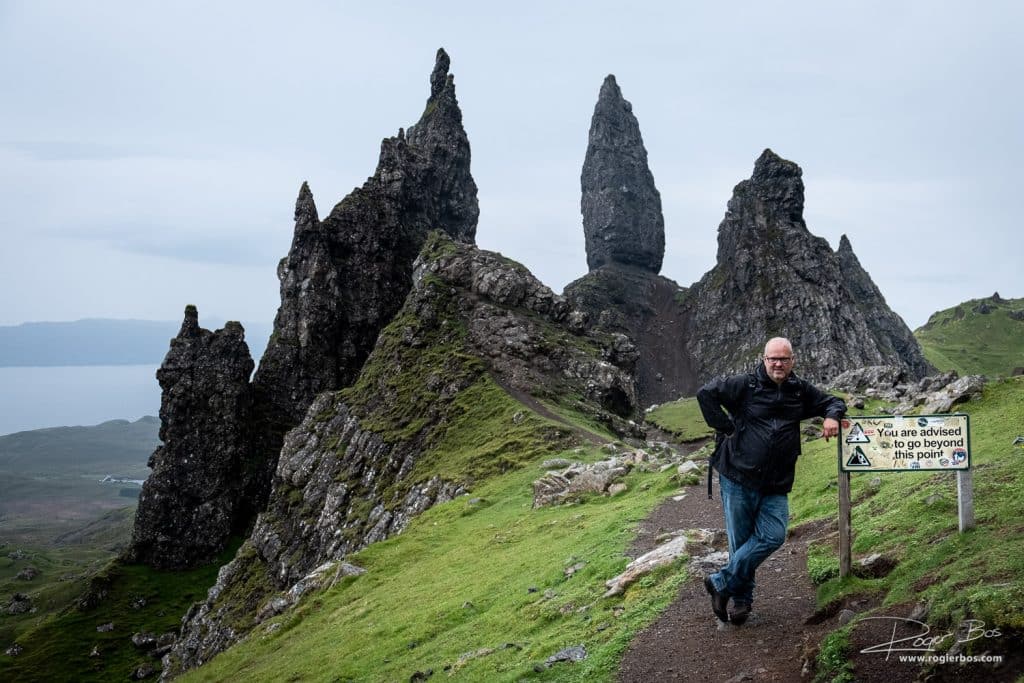 Really there's two ways up and down Old Man. On the way down we choose the longer way. At some point it opens up and this is the landscape before you. This is three photo's stitched together. It covers about 180-degrees.