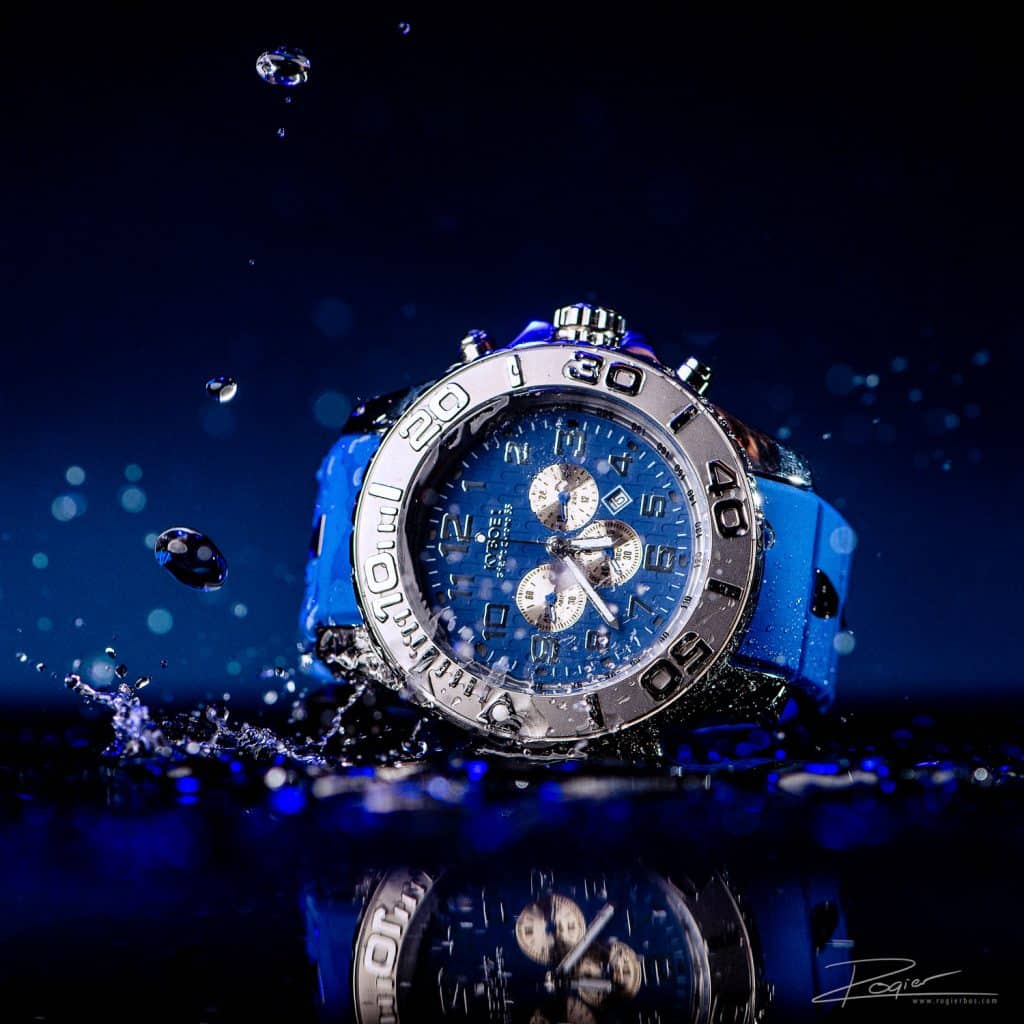 Je zou het training kunnen noemen, of studie… maar eigenlijk is het gewoon spelen. Vorige week vrijdag heb ik een middag lang mooie horloges gefotografeerd samen met mijn collega Ingrid van Heteren, in haar studio in Uithoorn. Zo nu en dan spreken we samen af. Dan leggen we onszelf een project op en proberen we onze vaardigheden te ontwikkelen. Dit keer kwam zij met het idee om productfotografie te doen: ze wilde horloges fotograferen. We zijn dan een middag aan het spelen met licht, water, zand, spiegels. en wat we nog meer kunnen vinden. Daarbij assisteren we elkaar en helpen we elkaar het gewenste resultaat te bereiken. Daarbij zijn we heel serieus en gefocust bezig — en hebben we tegelijkertijd de grootste lol.
Even een collega aanraden
De horloges kwamen van een juwelier bij Ingrid in het dorp. Hij gaf zonder blikken of blozen alle horloges mee waar we om vroegen. Ik geloof niet dat een juwelier bij mij in Rotterdam dat zo snel zou doen! Dan kun je wel merken dat Ingrid heel veel goodwill heeft verzameld op de plek waar ze woont. Maar goed, ze is dan ook echt een geweldige fotografe. Ik heb er geen enkele twijfel over dat ik van deze ontmoetingen 10x zo veel leer als zij. Als u in de buurt van Uithoorn woont of werkt, dan raad ik u Ingrid zeker aan: ze heeft een kleine studio (een 'kippenhok' zoals ze het zelf noemt), maar daar maakt ze de mooiste dingen! En ze werkt samen met haar man Walter, die als grafisch vormgever ook gelijk uw foto's mooi binnen uw communicatie kan passen (website).
Vaste afspraak als ik met Ingrid samenwerk is dat we elk onze eigen foto's maken, en niet elkaar kopiëren. In deze blog laat ik u dus mijn eigen foto's zien. In mijn fotografie van deze horloges ben ik gegaan voor een consistent blauw thema.
(Tekst loopt door onder de foto's)