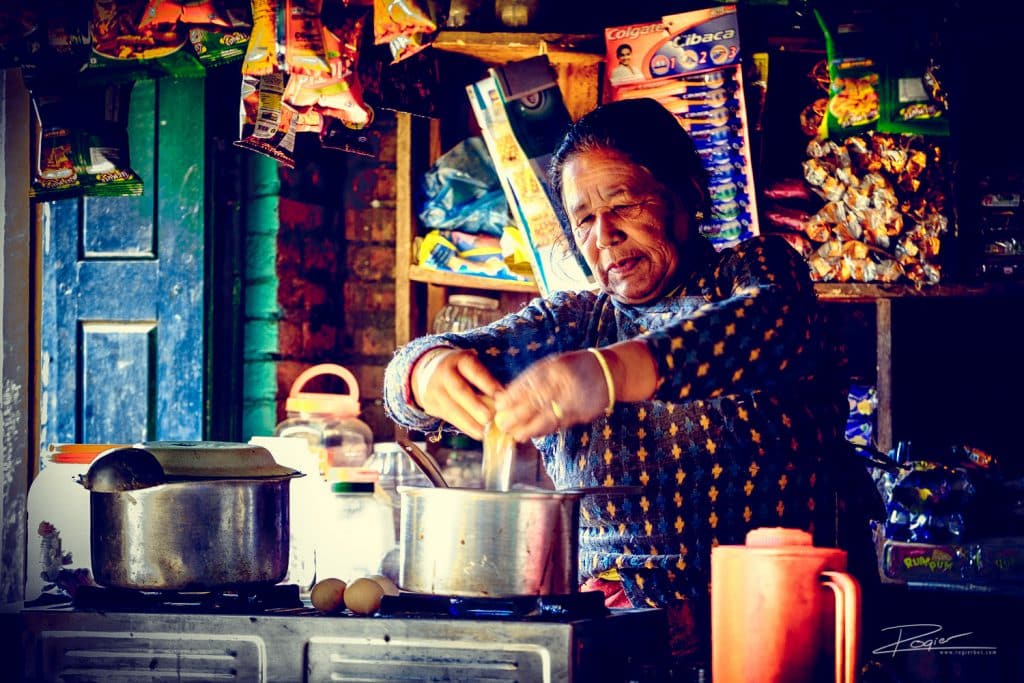 We left the hotel shortly after sunrise to drive to Panauti. It was nice to get out of the city. From Panauti, a smaller city some 40 km's south east of Kathmandu, we walked to the Thrangu Tashi Yangtse Monastery. This walk should have taken us 4 hours, but you know, a group of photographers doesn't move so fast…
It was a beautiful walk. The temperature was fantastic and the landscape was amazing. And beautiful people are everywhere, with many of them so happy to pose.
Here are my best pictures of day 2. Click to see them larger. I have added some commentary to tell you a little more.
Putting my new camera to the test
Before I go on, I should tell you that I brought a whole new camera-system on this trip. Many of my readers will know I am a Nikon photographer, but I knew that on this trip there would be many walks like this, and my Nikon-gear is just to heavy. So I bought the Fujifilm X-T2 with a set of 4 lenses. All my pictures on this trip were made with that system.
I have to tell you, I have fallen in love with the X-T2. What an amazing camera it is. I love the controls, the direct information on the electronic viewfinder, and indeed the weight. So comfortable to carry around. And the quality os fantastic. Just to give you an example, the shot at the top of this post was made over lunch. The woman in the photo started cooking right in front of us in her little shop. It was a grabshot, so I grabbed my camera and took the shot, not realizing the ISO was set low, and so I made shutterspeed 1/9th of a second, with a long lens (200mm equivalent). And while her hands are in motion as she squeezes out the egg, her eyes are actually sharp – at a 1/9th of a second! Wow…
The women of Nepal
You can't go far in Nepal without seeing that it's the women of Nepal who do 'the heavy lifting'. They work hard, and most of the heavy labour is done by women. You see this in the field, in the brick factories we passed along they way today, and also in construction. Most of the time the men stand idly by!
You will see woman carrying heavy baskets of fruits, bricks, sand and rock on their back, hanging from their necks. Our guide, Holi, told us she had to carry baskets weighing up to 50 kilo's from a young age, as her family worked the land. Nepali mothers do not support the baby's had, but rather leave the baby to develop neck-muscles right from birth – because the women need a strong neck!