De wereldhavendagen van Rotterdam waren de gelegenheid bij uitstek om mijn nieuwe 360graden camera uit te proberen. Met 360graden fotografie, ook wel panorama fotografie genoemd, maak je een foto die in ene alle richtingen uitkijkt. Dit doe je dus niet met een gewone camera. En de beelden zijn niet bedoeld om af te drukken, maar om te bekijken op een scherm, of in een 360-graden bril. Ze doen het bijvoorbeeld goed op een website, of op een mobiele telefoon. Zo biedt u uw kijker namelijk een echte visuele ervaring — an immersive experience! U begrijpt niet wat ik bedoel? Lees even verder; het wordt u vanzelf duidelijk!
Sophie en ik bezochten de Wereldhavendagen per Openbaar Vervoer. Maar waar ik normaal een auto vol met apparatuur heb, had ik nu alleen maar een camera en een slank statief. Dat was alles wat ik nodig had. Sophie lachte me uit toen ik zei dat ik mijn tas met zware apparatuur miste…
Centraal Station
Plein Rotterdam Central Station. #theta360 #theta360uk – Spherical Image – RICOH THETA
Deze panorama foto maakte ik op het plein van het Centraal Station. Ja, u ziet mij in beeld, want ik kon me daar nergens achter verschuilen. Maar u kunt even rond zoomen. U ziet dan bijvoorbeeld dat je het statief van de camera niet meer kunt zien; het lijkt alsof de camera zweeft.
Maar het wordt nog veel leuker. Klik even op de link (Theta 360) in de benedenhoek van het beeld. Nu komt u op een website uit waar u dezelfde foto nogmaals kunt bekijken, maar nu ook fullscreen, en met veel meer mogelijkheden. Probeert u de verschillende witte knoppen maar eens uit. Enorm leuk!
We waren met de trein aangekomen, en liepen naar de Metro. Rotterdam Centraal Station is ook een mooi Metrostation, dus hier ook weer een mooie 360graden foto gemaakt.
Metrostation Centraal Station, #Rotterdam. #Fotograaf #panorama #Nederland – Spherical Image – RICOH THETA
Als u speelt met de knoppen, kunt u onderstaande projectie krijgen. Klik op de foto om hem groter te zien.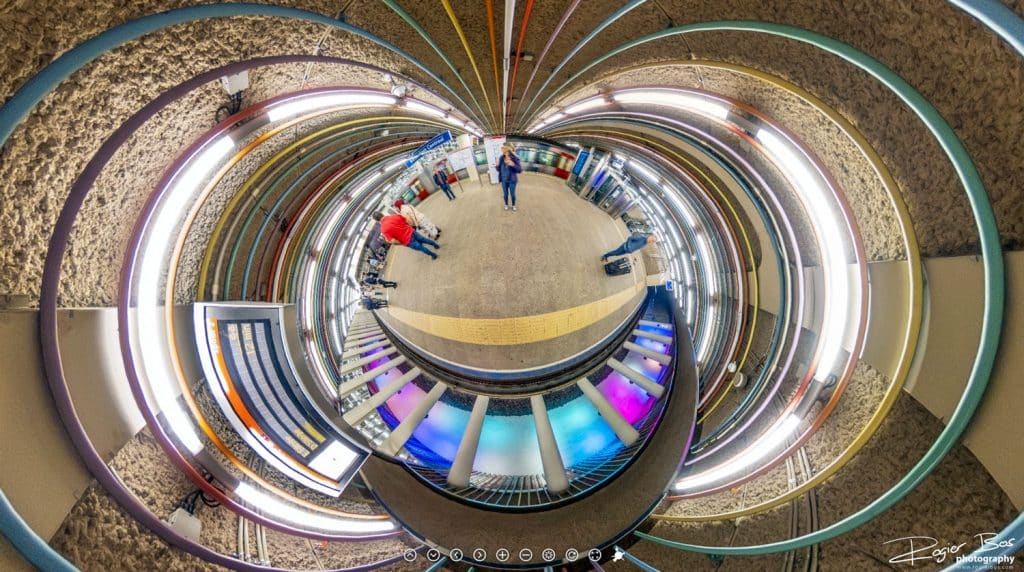 Panorama's op de Erasmusbrug en Wilhelminapier
De Erasmusbrug is de beste plaats om de actie op het wijde water te zien. Altijd een leuk spektakel tijdens de Wereldhavendagen. De Koninklijke Marine is standaard aanwezig en geeft mooie presentaties met de NH-90, haar helicopter.
Wereldhavendagen vanaf de Erasmusbrug, #Rotterdam. #fotograaf #theta360 #theta360uk – Spherical Image – RICOH THETA
Maar je kunt ook de Wilhelminapier oplopen. Hier staat de publieke tribune en hoor je de uitleg van de presentatoren.
Wereldhavendagen in Rotterdam vanaf de Wilhelminapier, tijdens drinkwaterboot presentatie. – Spherical Image – RICOH THETA
Ik wilde ook een 360graden foto maken tussen de hoge gebouwen van de Wilhelminapier. Dus liepen we een eindje door. Op de grote parkeerplaats bij Hotel New York stond de brandweer opgesteld met een aantal mooie voertuigen. Hier maakte ik onderstaande foto.
Presentatie van de brandweer op de Wilhelminapier tijdens de Wereldhavendagen in Rotterdam. – Spherical Image – RICOH THETA
Op de brug van de Betelgeuze en bij Rijkswaterstaat
Aan de Wilhelminapier liggen tijdens de Wereldhavendagen ook allerlei schepen die je kunt bezoeken. Op twee schepen kon ik een 360graden foto maken. leuk om twee zo totaal verschillende schepen in beeld te kunnen brengen. In beide gevallen moest ik heel snel werken, omdat er constant bezoekers zijn.
Dit is de brug van de Betelgeuze, een trainingsschip van het Zeekadetkorps.
Brug van de Betelgeuze, tijdens Wereldhavendagen, Rotterdam, 2019. – Spherical Image – RICOH THETA
Waar de Betelgeuze een klassiek schip is, is het volgende schip, van Rijkswaterstaat, juist hypermodern. Ook hier mocht ik, heel snel, een foto op de brug maken.
Brug van schip Rijkswaterstaat. Foto genomen tijdens Wereldhavendagen, Rotterdam. – Spherical Image – RICOH THETA
Afsluitend: Leuvehaven
Vervolgens liepen we terug over de Erasmusbrug. Sophie en ik waren van plan wat te gaan eten in de Witte de Withstraat. Maar het was het einde van de middag, en het licht was heel mooi. Dus maakte ik ook nog even een foto in de Leuvehaven. Voer net het varende bubbelbad voorbij,,,
Rotterdam Leuvehaven #theta360 #theta360uk – Spherical Image – RICOH THETA
We liepen de Witte de Withstraat in, op zoek naar een restaurant. Maar naast uitstekende restaurants zijn er daar ook leuke winkeltjes. Sophie dook er eentje in. En dus maakte ik ook daar nog even een panoramafoto.
Studio Armenie aan de Witte de Withstraat, Rotterdam – Spherical Image – RICOH THETA
Wat u nog moet weten over panoramafotografie
Graag vertel ik u nog het volgende:
Overal waar ik kwam was men tijdens deze middag was men erg onder de indruk van de technische mogelijkheden, en de kwaliteit van het beeld. Foto's worden draadloos verzonden naar mijn telefoon, dus het resultaat is gelijk zichtbaar.
In enkele foto's ziet u nog kleine 'stitching foutjes'. Ik heb de camera net. Binnenkort weet ik hoe ik dit soort problemen kan voorkomen/verhelpen.
In deze blogpost ziet u de foto's op de website theta360.com. Maar beelden kunnen ook prima op uw eigen website draaien.