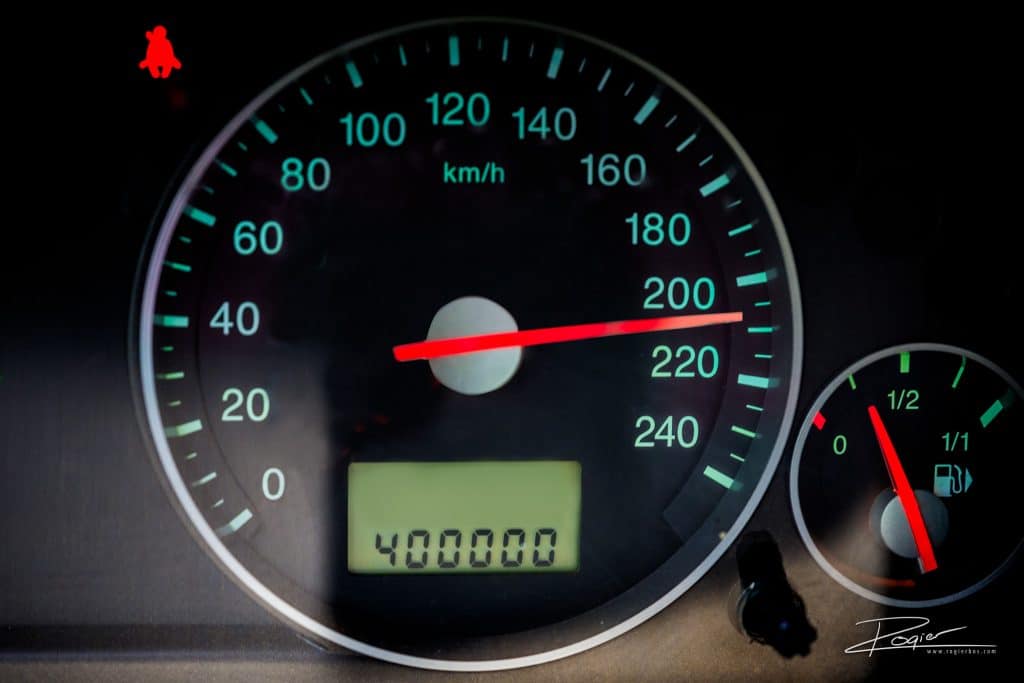 Vandaag ging mijn trouwe blauwe vierwieler over de 400.000 km! Ik had er al even naar uitgezien, want persoonlijk vind ik het een hele prestatie dat een anti-techneut als ik een auto zo ver krijgt. Als de motorkap opengaat begrijp ik er niet veel meer van, maar dankzij de assistentie van een goede garage rijdt mijn Ford Mondeo nog steeds. We zijn er net mee op vakantie geweest (2675 km), en hij deed het nog voortreffelijk.
Nou ja, voortreffelijk… de maand voor de vakantie heb ik wel een aantal reparaties moeten laten uitvoeren. Dat begint met een eenvoudig 'de pomp van de airconditioning-pomp' moet vervangen worden', maar wordt al snel een stel vallende domino-stenen: de ene reparatie veroorzaakt de volgende. Bij elke reparatie heb je dan de vraag: is de auto het nog waard? Maar ik was de 400.000 zo dicht genaderd, over die grens wilde ik toch even heen. En ik moet zeggen: hij rijdt weer als een zonnetje!
Dat ik dus vooral dankzij de voortreffelijke garage waar we de auto's sinds een flink aantal jaren laten verzorgen: JBR Autoservice in Rotterdam. We zijn Jan en Brian van JBR erg dankbaar voor hun goede service en adviezen en bevelen hen van harte bij u aan!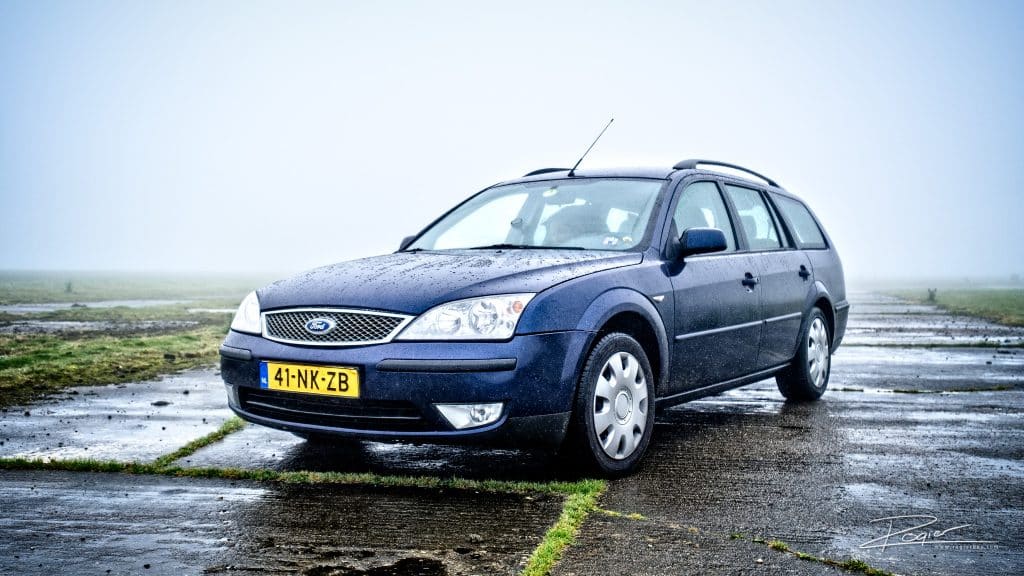 In wat voor auto rijdt een fotograaf?
Toch begin ik langzamerhand wel na te denken over een volgende auto. En dient de vraag zich aan: wat nu?
Toen ik deze auto in Juli 2008 kocht was ik net begonnen als fulltime fotograaf. Ik had nauwelijks geld, en dus kocht ik deze Ford voor €11.000. Hij had 76.000 km op de teller. Een snelle berekening is dus dat ik zo'n 35.000 km/jaar rijd (een getal dat gestaag stijgt om dat steeds meer opdrachtgevers zich realiseren dat de juiste fotograaf voor hun opdracht misschien niet in hun dorp of stad woont). Deze auto heeft het dus uitstekend gedaan, maar het wordt tijd om een plan te maken voor de toekomst.
En daarmee stuit ik op een dilemma. Van mij mag de volgende auto wat luxer zijn, en wat representatiever. Zo'n auto waarvan mensen zeggen: de zaken gaan zeker goed? (Dat gaan ze ook!). Zo'n auto waar je met plezier in stapt, en met plezier naar kijkt, en die ook wat steviger op de weg ligt. Zeg maar, een stevige Duitser of Zweed
De vraag waar ik mee worstel, is of het slim is. Denken opdrachtgevers bij het zien van een wat duurdere auto: die fotograaf is te duur? Of denken ze: die fotograaf weet ten minste van kwaliteit. Die auto getuigt van goed zakelijk inzicht?
Ik dacht: ik gooi het eens in de groep. Ik ben heel benieuwd naar jullie meningen. Wat denken jullie?