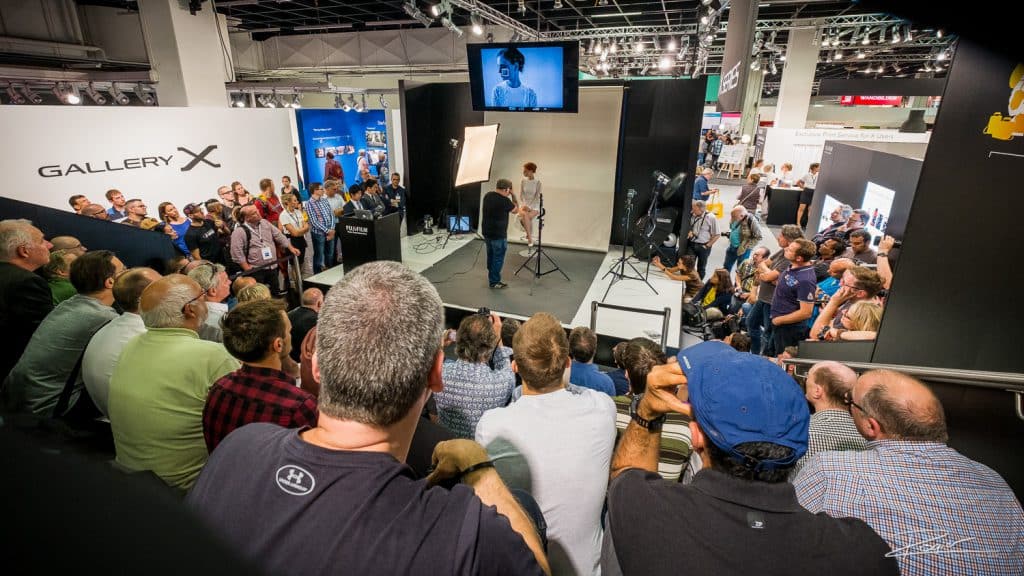 This week is Photokina-week. Photokina is the largest Photography trade-show in the world and it takes place every two years in Cologne, Germany. That's like next door if you live in Holland, so I consider myself very fortunate! Every time Photokina takes place I try to go a few days. Want to know what's going on in the world of photography? Here are a few images and thoughts!
[My reviews of Photokina 2014 and 2012]
First of all, Photokina is huge! It takes a few days to see! And even after spending a few days there I still have not seen everything. But this year I also found Photokina, or the Kina as insiders call it, chaotic. It was hard to get my head around how it was organized. In previous years companies were grouped together logically: camera-companies with camera-companies, lighting companies with lighting companies, and wedding album printers with wedding album printers. This year it seemed there was almost no sense to the order. Which made the kina hard to navigate.
Another odd development: while in previous years the internet-connection has been very good, this time it was lousy! Both the wifi offered by the Koelner Messe (the exhibition centre) as well as the 3G and 4G networds were completely overpowered and underperforming. Which made life difficult for both exhibitors and visitors.
Innovation?
But of course the real reason you go to Photokina is to see the new stuff! And was there new stuff? Well… sort of.
I am an Elinchrom user. Elinchrom is the name of my studio- and location flashes. The Elinchrom stand is one of my first stops whenever I go to Photokina. I am always excited to see what they have cooked up this time. But as I walked around the Elinchrom stand I didn't see any product I don't know already. When I asked one of the sales-reps, he admitted it freely: there's nothing new! I couldn't believe it. What? It's been two years… It soon became clear though, that the other major lighting brands also did not have all that much new stuff to show. It seems in the world of flash things are a little slow.
Not so in the world of camera's! As Photokina started four major companies came out with major product releases. That's what's cool about Photokina: new products are released, and you get to see it and play with it, and so get a sense of where things are heading.
But, wait a minute: that's not exactly what happened this time. Fujifilm released a mirrorless medium format-camera' but you could only see it behind glass. Panasonic released a camera that records 6 K video, but again: it was only visible behind glass. Will be available on market in January. Kind of made you wonder if there were actually any electronics in the box they were showing.
Olympus was even stranger. They announced a new camera that supposedly can shoot 60 frames per second. Amazing, right? But all they showed was a three dimensional hologram. No sign of an actual camera. Very odd.
Canon and Nikon have lost it
Am I being too critical? Perhaps. But what was clear to me was that Nikon and Canon are rapidly loosing marketshare to mirrorless-camera's, especially to Fujifilm. The Fujilfilm stand was overflowing with people the entire time I was there. Traditionally Nikon and Canon have very big stands, but that's not where the crowds were. How come? Fujifilm is doing something very right. There latest camera's are offering an image quality and functionality that I have been asking Nikon for for years. Just to give you one example: my Nikon sales reps has told me for years it is actually technologically impossible to build a good wifi-transmitter in a camera. They offer a wifi-transmitter, but it's external and costs close to € 700. The D750 has wifi transmitter inside, but it doesn't work. Fujifilm on the other hand just builds it into their camera's. At the Photokina a Fujifilm rep showed me: it's fast, simple, and it just works.
Amazing photography
You don't just go to Photokina to see what's new, you also go to get inspired. I was blown away by the portrait series in the Leica hall by Bruce Gilden. My portraits always seek to present a person in the most flattering way possible. These images are very different: raw, honest, in-your-face… I thought they were amazing!
Closing thoughts and observations
Photokina is different everytime
I did not get the feeling that it was being overrun by amateur photographers as much as it did in previous years.
There are way too many album-printers in Europe
LED light is making a big impact.
There are a number of chinese brands that used to just make imitation-stuff that are now creating interesting new products.
Best new products that I invested in: Magmod. More on this later.
During Photokina hotels charge 40% more for hotel rooms. Book early!
Brands that have big stand one year can totally disappear the next year.
Here are some additional fun images. You can click on them to see them larger and read a bit more about them.